Commonwealth Games 2022: gymnastics, marathon and Peaty in the pool on day two – live! | Commonwealth Games 2022
Key events
Men's marathon: Whether it's one of the "benefits" of Brexit or down to some other reason, the course is marked out in kilometres rather than miles, which seems a bit daft considering everyone on the planet knows a marathon is 26 miles long in old money, with a bit of change. For those who may not know, including me until about two minutes ago, a marathon is 42.195 kilometres long.
After 25 kilometres (15.53 miles), a group of six runners have opened a sizeable lead on the rest of the field. Liam Adams (Australia) continues to lead, with Michael Mugo Githae (Kenya), Victor Kiplangat (Uganda), Alphonce Felix Simbu (Tanzania), JOnathan Kipleting Korir (Kenya) and Hamisi Athumani Misai (Tanzania) in close attendance.
Elsewhere this morning: As the men's marathon continues, there are track cycling qualifying heats taking place in the Lee Valley velodrome, whgile Engtland's women are taking on New Zealand in the women's rugby sevens. The women's artistic gymnastics also continues throughout the morning. With the men already out on the course, the women's marathon is scheduled to start in a little under 10 minutes.
David Weir speaks: In a post wheelchair marathon with the BBC, the Londoner refelcts on his bad luck after puncturing while well clear in a race that was eventually won by his compatriot Johnboy Smith.
"I have had problems with my chair since [the Olympic Games in] Tokyo," he says. "I went back to my old chair, I got it rebuilt and it has been fantastic.
"Since I have been back in this chair I just felt really comfortable and flying. It's just been a bit annoying. Since May the training has been through the roof. I have just felt 10 years younger, so it's just frustrating.
"If I didn't have my mates in the last 4km running beside me I probably would have stopped. I probably would have just pulled over and given up. From where I am from, on a council estate, you don't give up – in anything."
Weir also explains that, in an unprecedented move, he had considered bringing a spare wheel with him but eventually decided against it in the end. He suggests his wife may have talked him out of it because he'd never needed one before, so things could be tense in the Weir household tonight!
Men's marathon: Australia's Liam Adams leads at the 10km mark with a time of 31min 06 but can feel the warm breath of Tanzania's Alphonce Felix Simbu on his neck. Simbu's teammate Hamisi Athumani Misai is close by in third, with Uganda's Victor Kiplangat in fourth. The Kenyans Jonathan Kipleting Korir and Michael Mugo Githae occupy the next two places but at this early stage you could throw a blanket over the front runners.
England secure men's team gymnastics gold: For the third Commonwealth Games in a row England are gold medallists in the men's team competition, this time triumphing by 13.350 points. Tumaini Carayol was at the Arena Birmingham yesterday to see them romp to victory …
Birmingham's bonanza of sport
The start of the Commonwealth Games was blessed with warm weather, but some commuters were not impressed. Andy Bull reports from Leamington Spa and Birmingham …
The men's marathon is under way …
Alphonce Felix Simbu from Tanzania, who took bronze at the 2017 World Championships, has posted the quickest time of all the participants this season, while Northern Ireland's Kevin Seaward will be hoping to improve upon his fourth place finish in the last Commonwealth Games. Kenya's Jonathan Kipleting has the best PB in the field and could duke it out for the gold medal with his compatriot Philemon Kacheran.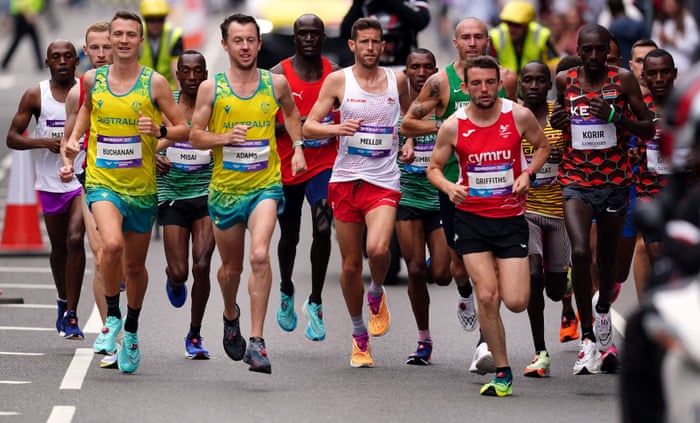 Gold for Australia! Two-times Paralympic champion Madison De Rozario was first to roll across the line in the women's wheelchair marathon, finishing in a time of 1min 56min 00sec. She beat Englishwoman Eden Rainbow-Cooper by 3min 45sec, with another Englishwoman, Shelly Oxley-Woods, a further four minutes back in third.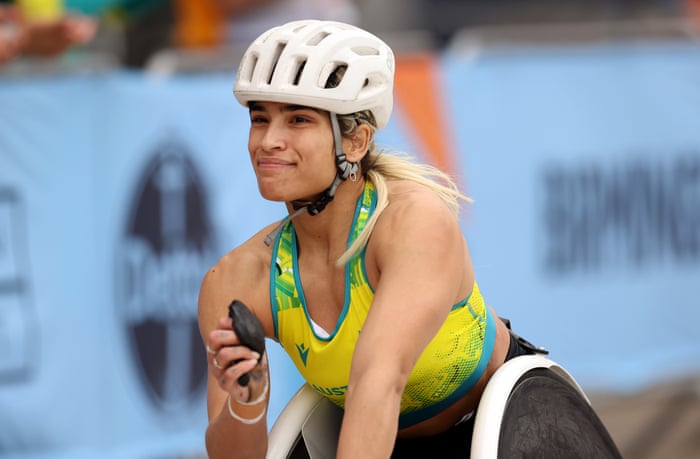 Commonwealth Games: day two …live!
Welcome one and all to the second day of our live Commonwealth Games coverage. There are no fewer than 23 gold medals up for grabs on Saturday and one of them has already been claimed by England's Johnboy Smith in the Men's T53/54 wheelchair marathon in a time of 1hr 41min 15sec. Smith finished 4min 34sec ahead of Scotland's Sean Frame, while Scotland's Simon Lawson was a further 10 seconds back in third.
In an extremely gracious victiroy speech, Smith acknowledged that he was extremely lucky to win and would have to settle for silver if race favourite David Weir had not punctured while in the lead. Weir finished the race with a flat tyre, coming in seventh, a little over two minutes behind the winner.