Article content
Sunny October, grey and miserable November.
Article content
In the real world "Edmonites" are well versed in this weather pattern, which is well established in the climatological records. Fans of the Edmonton Oilers, meanwhile, have also gotten used to a similar rise and fall of their hockey club, especially during the Ken Holland era.
Article content
Recall Holland's first season at the helm back in 2019-20 when the Oilers jumped out to a 5-0-0 start and ran their record all the way to an impressive 16-7-3 by this date of Nov 24. But a lengthy cold spell saw them drop 11 of their next 15 decisions to drop to 20 wins, 21 losses (4 in gimmick time, mind) and all the way to 11th in the Western Conference by points percentage by the midway point of the season. The club then bounced back with a strong second half to finish second in the Pacific Division.
Article content
The following season there was no hockey at all in October to December, so no autumnal pattern either way. But in 2021-22, the Oilers again jumped out of the gate with 5 straight October wins, and by 7 weeks into the season stood at 16-5-0, good for first overall in the entire NHL. But the following 7 weeks saw them drop 13 of 15 and plummet all the way to 12th in the West. Once again they pulled out of the dive and soared back to finish a strong second in the Pacific.
This season? More of the same, in microcosm. Another early-season 5-game win streak saw them reach the 10-game mark at 7-3-0 and in solid position. But the second 10-game segment saw a complete reversal of fortune with a dismal 3-7-0 stretch.
10 wins. 10 losses, all in regulation. 10th in the West.
Article content
More to the point, .500 in a .550+ league. It's a problem.
For those desperately searching silver linings, the good news is the Oilers have been here before and gotten through it. Twice. This time they have 62 games to right the ship, more than last year's 38 when Jay Woodcroft was promoted, or the weird 30-game second "half" of the 2019-20 campaign. So it's too soon to panic, even as there is plenty of cause for valid concern.
Season to date by segment
2021-22
…
Games 61-70: 7-2-1, .750 | 48 GF 33 GA | 359 SF, 324 SA | 1.032 PDO
Games 71-80: 7-2-1, .750 | 33 GF, 20 GA | 354 SF, 329 SA | 1.032 PDO
2022-23

Games 1 -10: 7-3-0, .700 | 41 GF, 32 GA | 334 SF, 338 SA | 1.028 PDO
Games 11-20: 3-7-0, .300 | 25 GF, 40 GA | 304 SF, 346 SA | .964 PDO
We show the last two segments of last season to accentuate the apparent anomaly that is the one just finished. Under Woodcroft's direction down the stretch the Oilers were winning both the shot volume and shooting/save percentage sides of the equation, and as a direct result, a significant majority of their games. The first segment of the current season saw a flattening of shot shares but continuing proficiency on the percentages side. All seemed well when we published the first segment review just 3 weeks ago.
Usually our arbitrary cut-off of 10-game segments blurs the edges of various winning and losing streaks within a season, but 2022-23 took a heel turn right after Game 10, leaving the starkly contrasting before/after numbers above. A significant drop in shot shares (even with what seemed like the game's last 40 shots at New York Islanders on Wednesday), a collapse of both shooting and save percentages, led to a dreadful change of goal differential over the two segments from +9 to -15.
Minus. Fifteen. A measly 25 goals for, a massive 40 against. When compared to the last 10 games for all NHL teams, both figures rank near the bottom of the league. A four-way tie for 25th in goals with offensive juggernauts Ottawa, Nashville and Arizona. A three-way tie for 28th in goals against with defensive powerhouses Montreal and Anaheim.  However you slice it, bottom quartile of the NHL in both offence and defence. Leading, not surprisingly, to a two-way tie for 28th in standings points, also with Anaheim. Shudder.
The turning point came in the 57th minute of Game 11, a home affair vs New Jersey on Lee Fogolin/Ryan Smyth Night. The Oilers shockingly allowed 2 goals in 7 seconds that transmogrified a 3-2 lead into a 4-3 regulation loss, abruptly ending their 5-game winning streak and leaving a particularly bitter aftertaste. Two more disjointed losses followed, then a win-one-lose-one pattern for a while, with the losses invariably in regulation. But then came another pair of resounding defeats on the eastern seaboard to close out a truly lousy 10-game set.
Article content
The Oilers effectively won a trio of one-goal games, with an empty netter for fun. Make it +4 in wins. They also lost three close games, also with 1 empty netter, so make it -4 in tight losses (though crucially, all in regulation). The dash-15 goal differential came entirely from a quartet of one-sided defeats: 6-2 to Dallas, 7-2 to Carolina, 5-2 to New Jersey, 3-0 to the Islanders. Ominously, not a single comfortable win the entire time.
Let's dig a little deeper. It was undeniably a tough schedule, featuring a number of Eastern Conference powers including a tough 4-gamer in 5½ days in the southeast, a 2-game homestand followed by another cross-continental trip. All opponents were playoff teams from last year and/or sitting in strong playoff position now. The "easy" games, in theory, were a pair against New Jersey Devils, a rising power who were merely in the process of putting together a 13-game winning streak of their own. Bad timing there.
Article content
But even in a tough schedule, one might expect a playoff team to saw off, in both goals and  wins. The Oilers, however, were second best on too many nights, often a distant second. The primary culprits were a flailing, failing penalty kill, and most especially floundering, foundering 5v5 play.
Check out goals by manpower strength (including a penalty shot) over the segment: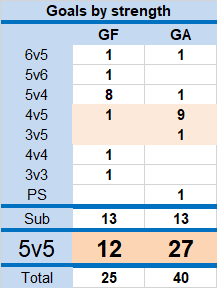 As the subtotals show, the Oilers were able to wipe out the PK deficit due to decent performance by their own powerplay and solid small-number results in other manpower situations. The entire -15 goal differential was incurred 5v5! Now bear in mind that that primary game state accounted for 481 minutes of playing time, all other manpower situations combined for just 120. Meaning that for 80% of the time the Oil were getting crushed.
Article content
32nd in goal differential (-15)
31st in GF (12)
T-29th in GA (27)
32nd in goal share ( GF% = 30.8%)
29th in shot share (SF% = 45.6%)
32nd in shooting percentage (5.26%)
25th in save percentage (90.1%)
32nd in PDO (.953)
Again, bottom quartile across the board.
The percentages at the bottom of that hail of bullet points are particularly troubling, albeit the most volatile element in short-term results. Edmonton's combination of poor shooting, rotten luck and red hot opposition goaltending resulted in them scoring 9 (!) fewer goals than might be expected, Meanwhile Oilers goaltenders allowed 3 more than expected. That's a goal differential of -12 that can largely be accounted for by poor percentages at both ends. Clean up that PDO just to the average 1.000 and things are a lot closer to sawing off.
Article content
Our own counts at the Cult of Hockey indicated that after Wednesday's unsuccessful onslaught on the Island the Oilers had pulled fairly close in producing Grade A shots (92 for, 98 against at even strength) and 5-alarm chances (48-49), but that merely underscores the woeful conversion rates, especially at the offensive end.
To conclude, a rough patch, very rough. Is it the end of the world? No, not remotely. Is it the end of the season? Also no. This squad has plenty of in-house experience of coming out the other side of rancid stretches. But in the ultra-competitive NHL, there is no time like the present to get headed in the right direction.
With that lengthy review of team performance, we'll keep our commentary of individual performances short, though not sweet.
Article content
Goal

We start as usual between the pipes where rookie Stuart Skinner received a heavier workload this time around. His percentages remained superior to would-be starter Jack Campbell, though neither set was very impressive. Whether it was iffy goaltending, poor team defence, lousy penalty killing or (my choice) all of the above, allowing 4 goals a game is death in this league.
Defence

Decent offensive numbers from a couple of rearguards, notably Tyson Barrie, but all those red numbers in the +/- column show that the minute-munching d-men got caved with one notable exception. Cody Ceci was stone alone on the entire team as a plus player through this stretch.
Of particular concern are the troubles encountered by Evan Bouchard at both ends of the sheet. Bouch managed just a solitary, secondary assist on the powerplay while posting a rare double-digit minus over the 10 games. That includes a 5v5 goal share of 0 for, 9 against. 0-9. Bouchard played nearly 8 full periods at 5v5 over the stretch, and the Oilers didn't score even once. Worth pointing out that he had the best Corsi among the group (> 52%), leaving the reader to mutter "process good, outcomes bad, that should regress to the meat!" [sic] or to bellow "SEE??!! all those analytics are utterly meaningless!!" depending on your chosen religion
Article content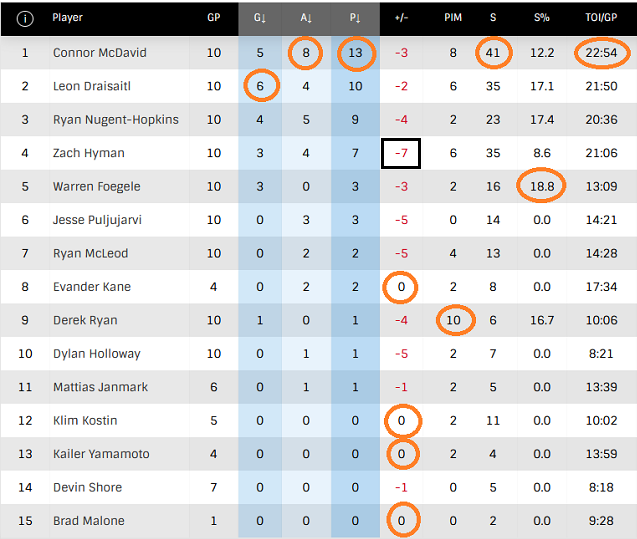 Up front, once again we see the lion's share of the scoring shared by just 5 players, with the promoted Warren Foegele doing his level best to fill the large void left by the injury to Evander Kane in Game 14. But we see a major drop in production of the other stars: Connor McDavid from 22 points to 13, Leon Draisaitl from 21 to 10, Ryan Nugent-Hopkins from 12 to 9, Zach Hyman from 12 to 7.
Below those top 5 scorers, a near void of production. 10 forwards with a combined 67 GP during the segment produced 1 (one) goal, 9 assists, 10 points. And from top to bottom, a sea of red minus numbers, crested by a few guys who played 5 or fewer games and managed to break even.
Player grades

We close in our usual fashion by reviewing the set of 10 games through the lens of our own subjective ratings here at the  Cult of Hockey. Regular readers will know that we grade on a scale of 1 to 10, the performance of every Edmonton Oilers player in every game the team plays, based on a combination of observation and interpretation of statistical output. Here are average grades for Games 11-20 along with our customary thumbnail comment summarizing each player's contribution over that span:
Article content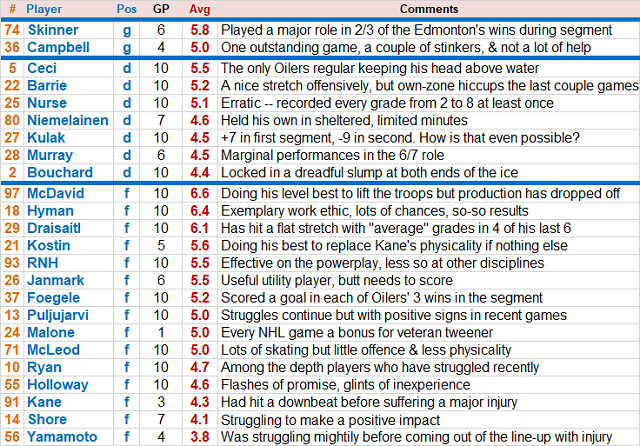 Results by grader, second segment:
Kurt Leavins – 4 games, 1-3-0, average grade 5.4
David Staples – 3 games, 1-2-0, average grade 5.1
Bruce McCurdy – 3 games, 1-2-0, average grade 4.9
Segment totals – 10 games, 3-7-0, average grade 5.2