Article content
These have been heady days and weeks for fans of the Edmonton Oilers. After an up-again-down-again-going-nowhere-fast first half of the season, the club found its bearings in a splendid 10-game segment that earned 16 of a possible 20 standings points. The 7-0-1 finish of the segment featured a number of supporting actors playing leading roles and a couple of unforgettable NHL debuts.
Article content
Indeed, as this segment review is published it's been 3 weeks since the Oil dropped a game in regulation (Jan 09). Just like that they find themselves 10 games over .500 and on the good side of the playoff cut line. While they have yet to establish serious separation in the standings, since our last report they have gained ground on every team in the playoff chase on both sides of the Western Conference, including 10 points on the formerly-untouchable Vegas Golden Knights.
Article content
Season to date by segment
Games 1 -10: 7-3-0, .700 | 41 GF, 32 GA | 334 SF, 338 SA | 1.028 PDO
Games 11-20: 3-7-0, .300 | 25 GF, 40 GA | 304 SF, 346 SA | .964 PDO
Games 21-30: 7-3-0, .700 | 43 GF, 30 GA | 317 SF, 313 SA | 1.040 PDO
Games 31-40: 4-4-2, .500 | 33 GF, 31 GA | 332 SF, 289 SA | .992 PDO
Games 41-50: 7-1-2, .800 | 45 GF, 28 GA | 367 SF, 310 SA | 1.032 PDO
Article content
As in the first and third segments of 2022-23, the Oilers scored over 40 goals and secured 7 wins, but this time they added the equivalent of another W due to a pair of overtime losses. They also established season-bests at both ends of the sheet in terms of goals scored and allowed.
The underlying process was improved as well, Our own counts at the Cult of Hockey yielded Edmonton held a commanding 166-121 edge in Grade A shots (58%) and 85-57 in the subset we call 5-alarm shots (60%). More traditionally, the squad's 367 shots on goal were the most in any identified segment in at least 5 years, and converted at an impressive team shooting percentage of 12.3% into 45 goals.
Many of those goals were produced by the usual suspects, but were buttressed by a very welcome surge in production from further down the line-up in both scoring and out-scoring results. Let's turn now to some of those individual performances. 
Article content
Goal

Some odd splits here. Jack Campbell started 6 games of the 10, winning all of them in regulation. The Oilers went just 1-1-2 in games started by Stuart Skinner, even as Campbell was technically charged with the 1 regulation loss in a relief role.
The real head-scratcher is that Skinner had slightly the better save percentage even as he allowed 0.72 of a goal more per 60 minutes. How is this even possible?
For this brain-teaser, let's dip back into the goaltending stats at NHL.com, the same site from which the above was derived. This time we'll access the "Advanced" category rather than the customary "Summary".

This gives a number of ancillary stats such as goal support, where in the first highlighted column we see the Oilers scored 4x the number of goals for Campbell than they did for Skinner, in <2x the minutes. The same data is presented on a per-60 basis in the next highlighted column. Hey lookit! The Oilers scored nearly 3 full goals per game more for Campbell than Skinner.
In somewhat similar vein, the Oil didn't defend as well in front of Skinner either, allowing 8.5 more shots per 60 minutes. That's 30% more shots-against.
Best explanation I've got is this is a very small sample indeed; just 10 games somewhat randomly split between 2 netminders. But within it the Oilers sure did play a lot better in front of Campbell, and Soup's got the snazzy W-L record to prove it.
Article content
Can't leave the netminding department without another stick tap for Matthew Berlin, whose surprise appearance in the dying minutes of a blowout win in Game 50 was a perfect way to send the Oilers and their fans on a bye-week vacation. (And by coincidence  wrapped up our segment as well.)
The home-grown Oilers fan and UAlberta Golden Bears netminder got an entirely unexpected chance to live The Dream. Better yet, it came in a benign situation, not the EBUG's standard terrifying news that "our two goalies are both hurt and you're next". It was a fairy tale of the first order, and huge credit to the young man for handling it all with class, grace, and a pretty nice blocker save.
Defence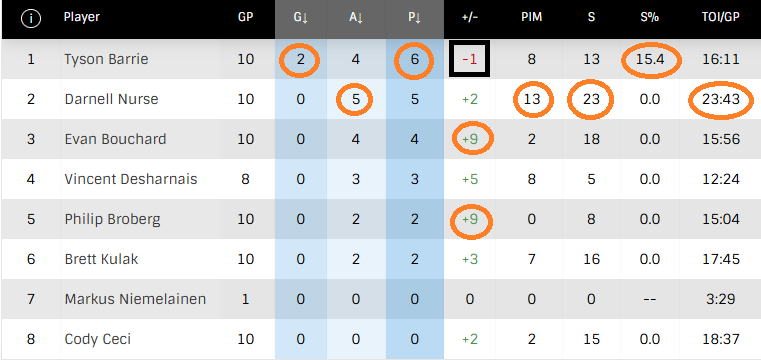 The only 2 goals for the entire d-corps came from Tyson Barrie, both in the most recent game, but no fewer than 6 d-men chipped in with at least a couple of assists. Meanwhile Darnell Nurse led the way in assists, penalty minutes, shots, ice time… nothing to see here.
Article content
A little more eye-popping numbers appear in the notorious +/- column where the youthful pairing of Philip Broberg and Evan Bouchard both posted +9. That was fully bought and paid for at 5v5 where each was on the ice for 13 goals by the Oil, just 4 against. Healthy PDOs to be sure, but both guys had an on-ice save percentage of 92% which is not far removed from normal. Both guys had Corsi and shots rates above 60%, and high danger chances and expected goals north of 65%. Exceptional rates. Playing third-pairing minutes to be sure, but a third-pairing that beats up on the other team's third-tier players is not a bad thing at all.
The key number not shown is 69, the number of games played by the group as a whole. In other words, Jay Woodcroft dressed 7 d-men in every game but 1, and wouldn't you know it was the lone game Edmonton lost in regulation, 6-3 at Los Angeles, allowing 4 powerplay goals in the process.
Article content
Big Vincent Desharnais watched that game from the pressbox, having changed spots with previous #7 Markus Niemelainen when the Oilers arrived in California for a road trip after Game 41. By the next game he was in the line-up, and there he has remained, playing a solid 12 minutes a night. That includes a substantial role on the PK, which allowed only 2 goals in the 8 games that followed the LA debacle. Never mind the 3 assists and +5 that Vinnie quickly compiled, while also winning lots of hearts and minds on Oil Country. "21st round draft pick" makes NHL: another splendid feel-good story, and this one with a viable next chapter.
Desharnais' presence as a right-shot #7 after all his predecessors in the role had been lefties had a big — I would argue "positive" — ripple effect on ice time on both sides of the sheet.
Article content
On the right side, Barrie's ice time dropped by 5:23 per game from the prior segment; Evan Bouchard's by 2:23; Cody Ceci's by 1:47. Meanwhile the reduction to 3 lefties enabled Philip Broberg's TOI to soar by 3:35 to 15 minutes a night. Worth noting the left-side trio are likely the 3 best skating d-men in the whole group and thus suited for bigger minutes. Among them Nurse's 23:43 stands out, fully 5 minutes a night more than any other blueliner.
Forwards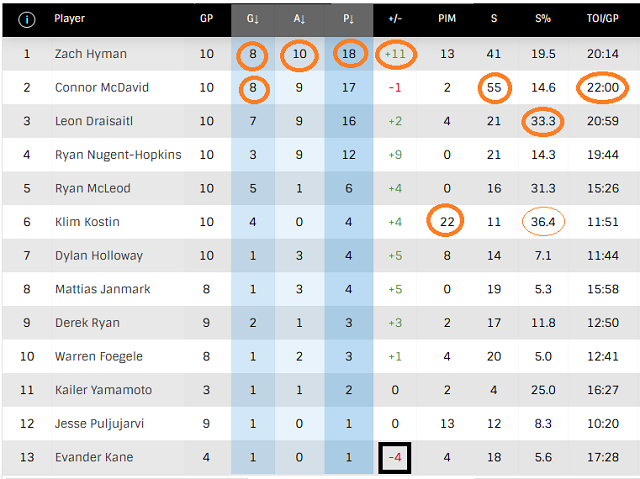 Massive surprise here is that neither Connor McDavid nor Leon Draisaitl led the club in scoring this segment, something that last happened just before the pandemic when Ryan Nugent-Hopkins edged both by 1 point. This time the surprise leader is Zach Hyman. He didn't exactly come out of nowhere, but he has only seemed to get hotter and better as his time in Edmonton has progressed.
Article content
Hyman led the club in each of goals, assists and points, not to mention in plus at a terrific +11, again reflecting 5v5 results of 17 for, 6 against. Indeed, Hy's 14 (!) points at even strength were 5 more than any other Oiler. The popular grinder was also second among forwards in shots and penalty minutes, third in ice time, and even earned recognition as the NHL's First Star of the Week. He's on a stunning roll.
The other 3 high-end scorers split their production almost equally between even-strength and powerplay points, as Edmonton's high-end PP continues to be driven by the "centres three". Some nice support scoring from Ryan McLeod (5 goals) and Klim Kostin (4), both on unsustainable shooting percentages to be sure, but nice signs that both 23-year-olds may be developing a nose for the net.
Article content
Some interesting stuff in the +/- column here as well (Nuge at +9, McDavid a less pleasant surprise), with the feature item being a steady stream of secondary players in the +3 to +5 range. Evander Kane a high-profile exception as he gets back up to game speed.
Player grades

We close in our usual fashion by reviewing the set of 10 games through the lens of our own subjective ratings here at the  Cult of Hockey. Regular readers will know that we grade on a scale of 1 to 10, the performance of every Edmonton Oilers player in every game the team plays, based on a combination of observation and interpretation of statistical output. Here are average grades for Games 41-50 along with our customary thumbnail comment summarizing each player's contribution over that span:
Article content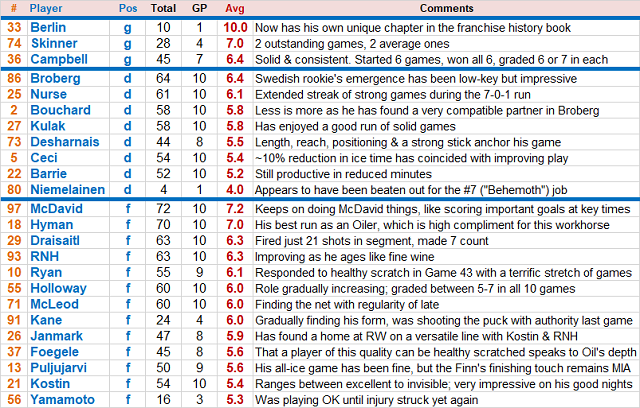 Results by grader, fifth segment:
Bruce McCurdy – 4 games, 3-1-0, average grade 6.1
David Staples – 4 games, 2-0-2, average grade 5.8
Kurt Leavins – 2 games, 2-0-0, average grade 6.3
Segment totals – 10 games, 7-1-2, average grade 6.0
Recently at the Cult of Hockey
STAPLES: Evan Bouchard right on schedule
McCURDY: Player grades as Oilers thump Hawks
STAPLES: Unsettling news on an oft-mentioned trade target
McCURDY: Oilers' depth scoring / out-scoring really changing the equation
McCURDY: The long slog of Vincent Desharnais
STAPLES: Zach Hyman, bargain extraordinaire

Follow me on Twitter @BruceMcCurdy