Article content
Reggie Begelton called it "embarrassing."
Article content
Richard Sindani used the word "frustrating."
The Calgary Stampeders receivers were not satisfied with their collective performance against the Ottawa Redblacks last Friday.
For the second game in a row, they didn't score a touchdown. They also combined for only 149 yards through the air against Ottawa.
Article content
Defence, special teams and a terrific performance by running back Dedrick Mills helped carry the Stamps to a 17-3 victory over the lowly Redblacks. But with the high-flying B.C. Lions rolling into Calgary for a pivotal West Division contest on Saturday (5 p.m., TSN/770 CHQR), the receivers know they need to be better.
"Terrible, it was freaking terrible," Begelton said of the game against the Redblacks. "We haven't scored in two games. We haven't scored a (passing) touchdown in two games. That's unsatisfactory. It's embarrassing.
Article content
"It's the kind of stuff that should light a fire up your butt and cause you to say 'What's wrong? What are we doing out here that's not working?' "
There's a lot that is working for the Stampeders this season. They're 5-2 and their only losses have come against the powerhouse and undefeated Winnipeg Blue Bombers (9-0) in games where the Stamps gave as good as they got.
One tough outing against the Redblacks (1-7) shouldn't be causing anyone to suddenly dismiss the Stamps' receiving corps. The team is scoring the second-most points per game in the CFL and also has the second most net yards in the league. The run game is a big part of that, but the passing game has done its part, too.
They just weren't satisfied with the way they played against the Redblacks.
Article content
"Last game, I honestly didn't even think we were that assignment sound," said Stamps head coach Dave Dickenson. "That was a tough game. I'd like the playmakers to make plays. Skill has to rise and when it's a one-on-one battle offensively you want to win your share of those and that's what we need to do.
"I think guys are working hard, but we need to rise up on those one-on-one battles and win them."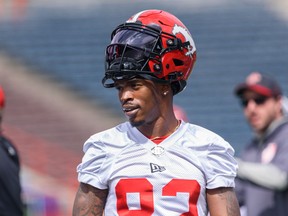 If the Stamps receivers are going to bounce back, it would be ideal if they did it immediately. While it won't be on the offence to stop Nathan Rourke and a breathtaking Lions attack, it's safe to assume that the visitors from Vancouver, who sport a 6-1 record, will put up at least some points on Saturday.
The Stamps are going to need to match the Lions' production when the offence is on the field.
Article content
A performance like the one they put out there against the Redblacks won't cut it.
"That's not Stampeder football, we didn't score a touchdown," Sindani said. "When we talked with (Dickenson) after that, to be honest, that's not the way our offence is conducted. We're definitely looking to rebound.
"Never let your opponent see you bleed and whatnot, but that team, they're good, they're really good, but we're not going to give them too much praise until they come in here and play us. They've gotta see us first, they've gotta see us at McMahon."
One thing that could help the Stampeders is if Malik Henry is able to recover from a quad injury in time for this weekend's game. Henry is the Stamps' leading receiver and was limited against the Redblacks.
Article content
He sat out Tuesday's practice but was listed as a limited participant at Wednesday's closed practice on the Stamps' injury report. His presence alone would provide a major boost, although Shawn Bane was neck-in-neck with Henry for the wide receiver job throughout training camp and could certainly do the job if he isn't available.
One way or another, the Stamps receivers aren't happy with the way they played against the Redblacks and they're vowing to be better.
"You can only keep chucking and everybody's gotta buy in," Begelton said. "It's one of those things where you can't pinpoint what the exact issue is, maybe, but you've just got to come together and trust that the guys next to you is going to do his job."